Welcome To R&A System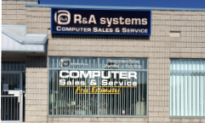 Friendly Service in the Friendly City.
• Bolton/Caledon's oldest Computer Company • Established in April 1988, 27 years of continuous service to customers at the same location with over 2500 sq feet of space in the Bolton Industrial park. • Our 27 years of business has allowed us to form strategic alliances with 100's of vendors which allows us to offer you the best products for the best prices. • Our company Sells and services computer systems including networks, stand alone computers, laptops/tablets, Apple/Mac products, used computers/laptops, copiers and fax machines. • Our services include on-site repairs; carry in repairs, on-site network installations, virus/malware removal, software installation and setup, remote backups, Internet Service provider, data recovery, etc. • We are an authorized vendor for most major brand manufactures including HP. Lenovo, Acer, and Toshiba etc. We carry product lines for 100's of vendors. • We sell supplies such as toner, ink cartridges as well as computer parts and accessories. • Our company motto is "there are no such thing as a problems only a solutions".Our Customer list consists of over 2500 customers all over Southern Ontario, including Toronto, Woodbridge, Bolton, Mississauga, Newmarket etc. Many of our customer's names are immediately recognizable. Our customers consist of individuals, small, medium and large sized businesses. Educational, government, churchs and not for profit organizations. Referrals are available upon request.